I'm always being asked about the plethora of different cruises on the Seine, starting with "Is a boat trip on the Seine a good thing to do if we only have a couple of days in Paris?"  "Is a boat trip a tourist trap?"  "Should we spend the money on dining or just take a guided tour?"
My reflex answer is "yes, definitely, make space for a boat trip no matter how short your trip."  You'll have a completely different perspective of Paris from the river;  the buildings are stunning and even more beautiful when lit in the evenings. The round trip can be relatively quick and you get to rest your, often very, weary feet.
So many of the most important buildings were either built on the river or have unhindered views from it; the Eiffel Tower, Invalides, the Musée d'Orsay, the Louvre and everything on the 2 islands – Notre Dame, the Conciergerie and Saint Chapelle – never mind that every single other building seems to have its own individual style and story to tell so that you could travel the Seine for months and still see something else you hadn't seen before.
Yes, a boat trip can also be a tourist trap but that doesn't mean to say you are ripped off – there is enough competition to keep prices down and service efficient. In fact, if you can, take the trip twice, once during the day in the sunshine and again in the evening at dusk whilst eating a delicious meal.
As there are so many different types of boat trip here are my thoughts:
For starters, there is the BatoBus, the watery equivalent of the Hop-on Hop-off bus.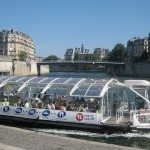 There are 1 or 2 day tickets for these boats that shuttle every 20 minutes along the 9 stops. This is a great option if you think you are going to sightsee along the river and want to take in as much as possible.  It's also quite a great option for children who may get tired easily because there is so much to distract them.
Then there are the cruises :
Vedettes du Pont Neuf offer a basic cruise every 30 minutes from the Pont Neuf with commentary in French and English from a real guide. Bring a picnic!
Vedettes de Paris has an hour long cruise with audioguide or for a little more money a snack is added. Don't take the Foxity bus tour + 1hr boat trip starting from the Eiffel Tower, there are not enough hop on/off stops to make it convenient.
The famous Bateaux Mouches and Bateaux Parisiens are much larger cruise boats.  You can take the guided (taped) tour or opt for food as they offer lunch, brunch or dinner menus.  Bateaux Parisien boats are smaller and prices are lighter except if you pick a table outside. The Bateaux Mouches are larger, more expensive and smarter – there is a dress code and dinner is prepared freshly that day. On both you are accompanied by a small band so you can dance between the tables if you like.
I have not taken the lunch or brunch trips but have only heard good reviews from guests. I have taken the dinner trips on several occasions and the food is very good however with pricing for dinner starting at €99 per person for the Bateaux Mouches you can also ask me to give you a couple of dinner options before taking a night cruise.
Undoubtedly though, my total favourite is Le Calife, a wooden converted barge.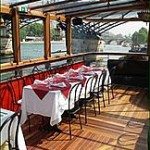 Le Calife is listed in the Top 20 restaurants in Paris on TripAdvisor whilst still being cheaper to cruise on than the Bateaux Mouches and Bateaux Parisiens and you have to be careful not to miss the view when chatting or eating the delicious food at lunch or dinner time. There is no guided commentary and no live music, it's just an excellent meal eaten whilst floating by a gorgeous view.
Hope you found this interesting and do tell me which one(s) you have tried and which you preferred.
You can find more of my recommendations by reading my suggestions of :
My goal is to make sure you make the most of your trip to Paris.
A très bientôt,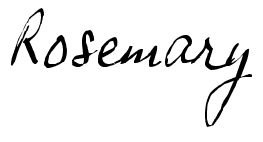 If you haven't already considered visiting Paris and staying at 52 Clichy, take a look at my website or read some of my 150+ 5 star reviews for the B&B or the +120 5* reviews for the Apartment.