Eat Local in some of the Best Restaurants in Paris
We're spoilt living in this area because we've some of the best restaurants in Paris.  There are so many because my little area (quartier) is still very French and that means the cafés, bistros and restaurants know that the clientele will stand for no-nonsense, they demand excellent quality produce and good service at the right price.  They are not too fussed about having a lot of choice on the menu, 3 starters, 3 mains and a handful of deserts will suffice and they don't tend to stray from the old favourites.
The French dine out regularly which means our restaurants are full of locals.  Having a vibrant local community means even in Montmartre, a tourist mecca, the standards are excellent, unlike some other tourist areas such as parts of the Marais and certainly in the Latin Quarter, where it can be difficult to hear a French voice sometimes.
Wandering down the hill
Perhaps I should start with my favourite place to eat beef bourgignon. Bourgogne Sud is literally a couple of minutes walk down rue de Clichy for gi-normous burgundy snails in garlic (with a glass of chablis or, even better, quincy) then the most delicious beef bourgignon, large chunks of melt in the mouth beef served in its own copper pan accompanied with a heavenly potato purée.  I think only once did I stray from this choice since I started eating there.
The set menus are quite complicated to read and the English menu is incomprehensible in parts who cares when you will rave over the food.
There is also a fabulous Italian foodie restaurant 50m away called Bar Italia Brasserie (in Top 20 of ALL Paris restaurants so book in advance)
Popping up to the Place de Clichy
Barely out of our main door, on the first corner, if you can force yourselves past the view of the cakes, take out lunch at our amazing bakery, Maison Landemaine. There are lots of vegan choices.
I'm not a connoisseur of Vietnamese food but guests from LA swore this is the best they'd ever eaten in and since then everybody else has agreed, so do try Pho 20 if you love soup dishes. Everything can be taken away too for an easy meal in the apartment. It's on our side of the road on the way to the Place.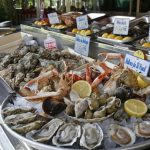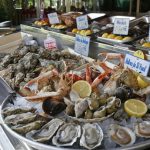 The Grand Dame of the Place is the Brasserie Wepler, this sumptuous art deco brasserie specializes in oysters and other seafood but does have a varied menu for those that are not tempted by a double decker platter.
10 steps off Place de Clichy is Le Cyrano with its walls covered in original mosaics and smoky stained glass over 100 years old. This is a cool bar for the younger French crowd spilling onto the pavement, serving tapas in the evenings. Excellent value.
Evenings only, from 6pm, if all you need is a light meal and a great glass of wine, try the Bistrot des Cinéastes which you'll find inside the private cinema about 20m north of the Place. Go inside and take a right up the stairs by-passing the ticket queue to the super-relaxed bar.
If the idea of a steaming pot of mussels tempts you then Léon (a chain, but a great one) serves the best!  I love the mussels in Dijon mustard which has overtaken my love for curry sauce and immediately order more frites for dipping as soon as the first bowl arrives 🙂
A stroll towards Montmartre
I will always encourage guests to eat in Montmartre. I love wandering through this area, there's lots for tourists to do but because local French people still live here it's retained its charm and relaxed environment. It's still full of great cafés and restaurants if you avoid the main artist's square, Place de Tertre.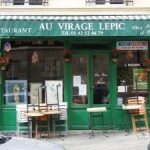 Getting there is easy, head up the hill and take the 2nd right, walking in a straight line and in under 5 minutes you'll find yourselves in front of the Moulin Rouge. All roads upwards will take you directly to the artist's square and Sacré Coeur. Work up an appetite or walk off your meal before returning home.
Au Virage Lepic, get there by wiggling up rue Lepic and at n° 61 you'll find the best French onion soup in Paris and their steaks and duck are also excellent.  Walls covered in black and white photos of film stars and the red and white check tablecloths will give you a typical French experience. Closed Tuesdays.
I learnt about Seb'On when researching the best places for guests to spend New Year's Eve, they were the new and up and coming 'in' place, rightly so. Tiny, only 10 tables. Amazing food and listed in Top 10 best restaurants in Paris on TripAdvisor. Open for dinner Wednesday-Saturday and Sunday lunch. Not at all expensive for the experience.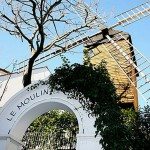 I've always enjoyed the outdoor courtyard of Le Moulin de la Galette in summer. Of course it's well known as only 1 of only 2 windmills left on the hill and the site of the Renoir painting of the same name. When you're walking up to it you can't see there's a windmill on top until you're practically in front of it!  There are set lunch and dinner menus to keep the prices down.
Al (& Pizza) Caratello offers typical warm Italian service and fab food. You must book if you're not going to be there at opening time at 7pm. It's actually 2 restaurants opposite each other, one of which has a pizza oven. Excellent fresh grilled vegetables and you often get a free drink or extra food – 'because' 🙂
Obviously there are loads and loads of other café and restaurant choices, both locally and elsewhere in Paris. Just ask me as I'd love to show you my list of best restaurants in Paris so you can track them down and eat like a local too.
Now, however, you must be need some exercise so read some of my thoughts about Exploring Paris or download my handy guide to Living Like a Local.