I'm a fan of the Black Eyed Peas so when I heard last month that Will.i.am (founding member of the Black Eyed Peas for those over 30) was re-interpreting his "Mona Lisa Smile" video in association with the Louvre, my interest was piqued.
I love the new video which was entirely set in the Louvre.  Throughout the song Will.i.am super-imposes himself on numerous of the Louvre's most famous paintings, half of which I should know but don't. Nicole Scherzinger plays La Joconde / Mona Lisa – but as I am over 30 I haven't heard of her ;-(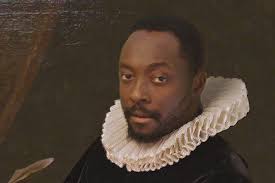 I think it would be a great wheeze to wander round the Louvre trying to spot the paintings used in the song !  One way to interest the teens, I think.
I might have to find them in the correct order sequence though just because I am waaayy too complicated for my own good…
Click on the photo to see the video.
How many can you name off the top of your head ?   If you need help this link shows the original painting, the video version and a bio !
Not content with this collaboration, Will.i.am has also produced a 12 minute documentary – Will.i.am at the Louvre – with the senior creator of the Department of Decorative Arts at the Louvre and the Editor of Wired UK discussing his passion for art and technology and his fascination with the Louvre, "the greatest museum in the World".  Some contents that particularly inspired him included one of my favourite subjects, Marie-Antoinette, his view of the parallels between creativity in the 18th century and today and the piece de résistance in his mind, Claude-Simeon Passemant's 18th Century silver and gold "Pendulum of the Creation of the World", which not only tells the time but shows precisely how the Earth tilts on its axis.
Click here to see the documentary.
The Louvre has a lot of Visitor Trails, maps with detailed directions and explanations of what you are seeing which you follow at your leisure and they have created a 90 minute Will.i.am at the Louvre Trail based on the documentary incorporating everything he talks about including the sumptuous Napoleon III apartments, the monumental white stone Lefuel double staircase and 'that clock' which I also think is amazing (I recently saw a smaller version in the Kings private state rooms in Versailles Palace but it is not on public display).
If you are up to it, and your teens aren't yet dragging their feet and demanding to be fed, there is 90 minute themed tour about the Da Vinci Code called 'from Fiction to Fact' and just one guided tour in English – an introduction to the 'Masterpieces' at 11.30am and 2pm each day.
Happy Louvring !