We have been having 'a bit of weather in Paris this week'.
You may even have heard about it on the news!
Raining cats, dogs and life jackets
Firstly it's been a bit wet. Well actually it's a bit wet down by the river Seine. It must have been raining above every river running into the Seine for weeks.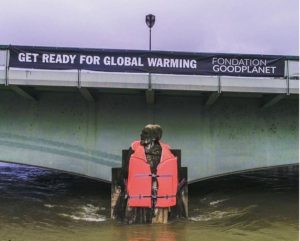 Because of that a statue of a soldier in the Crimean war, Le Zouave, on the Pont d'Alma by the Eiffel Tower became newsworthy a couple of days ago. It wasn't because 'he' nearly drowned, because the level is still not as high as it was in May / June 2015, but because he was given a life jacket.
Apparently when the feet of the 5.2m tall, 8 ton statue is under water, the river is flooded but there is no danger, but once his knees are covered the capital's quays are closed and river traffic suspended.
The life jacket was to shine attention on Climate Change and he wore it for only 24 hours.
What will save him now?
What a difference a day makes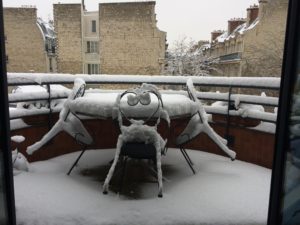 There may have been unrequited threats for a day or 2 but the day after we needed life jackets the weather in Paris changed drastically and it decided to snow! There was a pretty coating before bed but we woke up to 15 cms on the table and a precarious 9 cms on the bars of balcony.
This photo was taken about 11am before the pigeons started trying to land on the top bar and ruined the symmetry, yet another reason to hate them, but it didn't melt all day.
It has to be said that Paris is useless in the snow, due to never getting any practice, the buses and metros stopped, schools and parks were closed, nobody thought to get salt so it was impossible to walk on the pavements or drive on the roads yesterday, never mind today, even though we had lots of warning…
Best idea is to stay home, drink hot chocolate and listen to the silence.
What happens now to the weather in Paris?
Tonight the weather in Paris is at its coldest, dropping to -7C, only the 2nd night below freezing this year though on Friday it is supposed to snow again. Hopefully the Paris mayor will manage the situation a little better and then it's back to blue skies and sun by the weekend, 8C/46F within the week and 12C/54F the week after. And March has big suns all over the charts 🙂
You have cleverly managed to avoid this and if 16C/60F sounds like a lovely March Spring day then take a look at my calendar by CLICKING HERE and see if you can't pop in for a few days. Because at 16C/60F we are likely to be having breakfast on the balcony, not icicles.
A bientôt,
If you want to know more, click to find out more about How to Live like a Local by reading my Essential Guide to Paris.
If you haven't already considered visiting Paris and staying at 52 Clichy, check out my website or read some of my 150+ 5 star reviews for the B&B or the +120 5* reviews for the Apartment.