Even in Paris, a capital city famed for its gastronomy, it takes a little planning in order to have the most amazing culinary experiences. Here are some hints on how to avoid the tourist traps, navigate the 'dining rules',  and eat like a local in some of my favourite and best local restaurants in Paris.
When to eat
Eating well in France often means sticking to mealtimes. Some of the best local restaurants in Paris are the smaller, family-run restaurants open from 12.00 – 14.30 for lunch and then everyone will pop home during the afternoon only to re-open earliest 19.00 closing again anytime from 22.00. Cafés and larger restaurants tend to stay open from lunchtime to late. If you want to eat your evening meal before 20.30 you can but you will be eating with other tourists.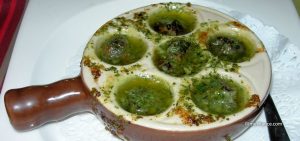 What to eat
Everywhere in France, you will see traditional dishes on the menus. The French love their staples! When they are cooked well it is then I remember why I live in Paris.
Below are some of my favourites so if you don't get the chance to eat these at home then track them down, except the last one!
Escargots – snails cooked in garlic and butter – excellent because you can only taste the garlic butter which is delicious. Burgundy snails are the super-size option.
Steak tartare – raw beef mixed with spices and an egg, sometimes the mixing is done in front of you. If totally raw meat is off-putting, you can ask for it to be seized on each side 'poelé' so it is like a totally underdone hamburger. You need to be very hungry as this is super-rich and filling. I can rarely finish the steak although I almost never leave the fries that come with.
Confit de canard – preserved duck cooked in its own fat – normally with roasted potatoes cooked in the same fat – heaven and my most ordered meal!
Boeuf Bourguignon – melt in the mouth beef which is slow-cooked in a red wine and mushroom sauce.
Moules marinières – mussels cooked in white wine, celery & garlic.
Tarte tatin – upside-down apple pie, preferably with a helping of crème fraiche. One day I will find a way of explaining how this could be diet food but for the moment it escapes me, though it could be one of my 5 a day.
Androuillette AAAAA sausage – not to be confused AT ALL with Andouille sausage because this is a tripe sausage i.e. no meat just wiggly lower intestine over which, to stem the smell, is slavered in a mustard sauce. There is no explanation possible for just how appalling this is to me. Adored by all French – don't come crying to me if you try this as you have been warned.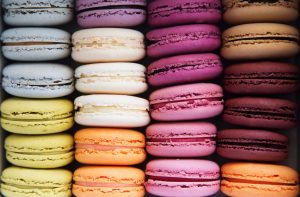 Outside meal times please create as many opportunities as possible to eat macarons, almond croissants and baguettes because you will be walking miles each day so you need the energy!
Where to find the best local restaurants in Paris
I have 2 long lists of restaurants which include some that have been on there since my first few weeks in Paris. One list is just for those establishments within a short walk of 52 Clichy – how to eat like a local in my 'quartier' as I am lucky that this area is full of amazing restaurants. My other list is for the best local restaurants and cafés 'everywhere else in Paris and a handful in Versailles'. Just ask, but here are a couple of options:
2 of my favourite traditional French restaurants are next door to each other at 61 rue Lepic in Montmartre. Au Virage Lepic (proper traditional food with the best onion soup in Paris), closed Tuesdays and Jeanne B (younger, lighter version) are both halfway up the hill from the Moulin Rouge on the way to Montmartre's Artist's square and Sacré Coeur. I always encourage people to walk off their meal with a gentle stroll around Montmartre's vibrant streets after dinner before wandering back home.
Another of my very favourite restaurants is Bourgogne Sud a few minute's walk down the street, the most amazing boeuf bourguignon awaits with pureed potatoes, regardless of what is on their menu I cannot order anything else!
Want to find out more about the best local restaurants in Paris? Read my website page on Eating Like a Local.
You cannot visit Paris and not eat steak & chips and you can get THE best at Relais de Venise behind the Arc de Triomphe. They are the original purveyor of the set menu of a starter of green salad with walnuts, then a smallish red hot plate of steak & chips and when you have finished that they give you a 2nd helping!
If you have room to order the vacherin dessert (looks like a chocolate and meringue Leaning Tower of Pisa) you will waddle out a happy bunny. Arrive at 18.45 and get in line for doors opening at 19.00 from when the restaurant will be full every night. Open every day except the month of July.
Crepes and galettes, the famous Breton food, are everywhere. Crepes can be ordered from corner kiosks or trek to a renowned café such as Breizh Cafe for a buckwheat (non-gluten) galette followed by their famous salted caramel crepe with chantilly cream, all washed down with lashings of cider – menus from €15 and closed Monday and Tuesday.
If you have to, join the hundreds queuing for the experience of eating at Bouillon Chartier, original interiors, super cheap, basic food but there are so many more choices with a little more style I suggest you go only if you can persuade someone else to wait in line for you!
Non-French choices
When I arrived in Paris the only 'foreign food' was Vietnamese. I had spent the previous 4 years in Hong Kong and after a couple of months looking at menus of only steak, croque monsieur, omelette and more steak on it, plus the obligatory 4 deserts I had a meltdown. Fortunately, Paris is much more cosmopolitan now and so it's possible to still get great Vietnamese but I also love the Indian, Lebanese and Japanese choices, lots of Japanese, rarely run by Japanese though so don't expect their level of cleanliness and burgers galore!
If you are vegetarian you may not quite starve but if you are vegan I suggest you just stick to drinking champagne, well no it's not quite that bad, if you speak French try the VegoResto list but if not try the HappyCow list which is comprehensive but mainly cake shops.
However, the French really don't understand why one might choose not to eat Ev-e-ry-thing. Gluten free people will find it easy to eat if you stick to smaller restaurants where the person in the kitchen has actually made everything and not bought it in from Picard (a frozen food shop). Look for a funny house shaped sign against items on the menu or blackboard which means it's 'homemade'.
P.S. I have a card to flash in French / English to show to restaurants for coeliac sufferers. Alternatively, you can download or type out the appropriate allergy information.
How to get the best out of your dining experience
In cafés catch the eye of the waiter and then sit down, in a restaurant always wait to be seated.
In restaurants, if you order an aperitif the waiter will not serve your starter until you have finished.
Try to drink as much water as wine during a meal and I always order a 'carafe d'eau' (tap water), eminently drinkable everywhere, rather than spend €5 on bottled water (licensed theft).
After your main course, you have the choice of cheese or dessert or, in smarter restaurants, cheese then desert. Cheese is eaten like any other meal, with a knife and fork and no-one makes sandwiches with their baguette!
The only time someone will bring you the bill without you having asked for it is if they are going off shift and have to cash up, otherwise they will leave you to enjoy your meal, chatting as long as you want afterwards. This also works in cafés if you have ordered a drink, you can then proceed to write your novel for the rest of the afternoon with an empty expresso cup in front of you and no-one will ask you to move. Consider it more like a transaction for renting space at a table for an undefined time rather than purchasing something to eat / drink and dashing off after it is finished. Embrace the slow lane.
Being a waiter is a profession in France so people are salaried. This was also the reason until a few years ago why you could be party to the most appalling service as the word 'salaried' equalled 'didn't care at all about the customers'. However Parisians have somehow in the last 10 years undergone a silent charm offensive, it is really rare to find a rude waiter except in a truly touristy area.
Tipping : 15% Service is included in every bill so don't think about it any more. You don't need to leave more than a few coins for a meal and some change with a drink unless you want to.
Greet everyone with a bonjour, smile, engage if you can and the experience of trying to eat like a local will be a million times more fun.
I hope you enjoyed this post and if you want to know more about Paris, please click on the link to find out more about How to Live like a Local by reading my Essential Guide to Paris.
Bon appétit.
P.S. If you haven't already considered visiting Paris and staying at 52 Clichy, take a look at my website or read some of my 150+ 5 star reviews for the B&B or the +120 5* reviews for the Apartment.