I've never been to the Palais de la Porte Dorée before, it's a vast exhibition space plus aquarium (obviously a great mix !*?), but then I heard about a new exhibition on Christian Louboutin, his life, art, passions and a few shoes with red soles!
I'm not normally hot off the mark to see new exhibitions but this was widely acclaimed and quite fully booked. The idea was to get there early to avoid the crowds, whizz round then find a great new place to have lunch in this area I'd never been to before.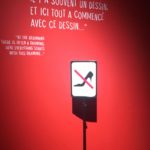 Plans got changed! We were there nearly 4 hours! And we didn't even have an audioguide! I haven't been to such a fascinating exhibition for years!
Apparently his interest in shoes was piqued by this sign in this museum when he was a child – no walking in high heels on the beautiful mosaic floors of the museum…. – and so the World comes full circle!
I'd no idea what to expect apart from seeing lots of shoes…. actually there was very little of that inside, there were 8 different rooms showing different parts of his creativity; his life, motivations, his fetishes and his muses.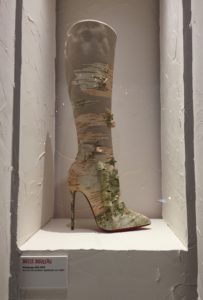 Most of his shoes were actually designed to be pieces of art, not to be worn. This is my favourite boot! There was a room dedicated to explaining the entire process of crafting the shoes in a workshop, on video and with the individual pieces, from creation to pattern-making, stitching … You know I love How to do stuff, this was fascinating, so fascinating I didn't take a single photo !
There was a room full of his collections of 'Nudes'; the 8 colours of Nude stiletto shoe with a red sole. I hadn't been aware there were 8 colours for 8 different shades of leg, fortunately the pair I bought years ago seem to be 'pale' enough, though it's a bit difficult to be as pale as my legs LOL. There were also full-sized leather sculptures of female forms in the nude colours, I wasn't quite sure about that bit…
There were holograms of Dita Van Teese doing a burlesque dance wearing his shoes and not much else by the end and also the footballer Iya Traoré (have you seen him on his lamp post at Sacré Coeur ?) but he kept his clothes on!
The fetish room was an English sitting room where the hand made carpets, furniture coverings, wallpaper and even lamp shades designs were all, if you looked reeallllly closely, explicit nudes – more 'odd'.
Bizarre, many things were, but this shoe takes the biscuit! It was Mae West's way of adding a bit of height under her long gowns and then skidding around when she was older! This really tickled me pink.
But the best space by far was a photographic collaboration with David Lynch. I tried to post some of the most beautiful photos on Facebook but they got banned!
You are just going to have to hope they extend the exhibition period from 26th Feb – 26th July 2020 to a lot longer as it is so very much worth a visit.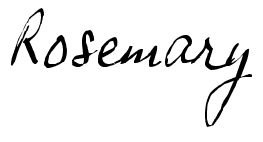 Catch up on lockdown in Paris or a little more culture from 'our Angel' and make sure you are following the Facebook page.