"Horses are wonderful partners with whom one can create poetry." Bartabas
On achève bien les Anges (we shoot Angels) is a spectacular theatrical event, perfect for the run-up to Christmas but don't miss it as it closes on 31st December.    I have tickets for the end of November and I am so excited I want to keep crossing and uncrossing my fingers and toes and am having trouble even thinking about writing this!
This type of show has been named Equestrian Theatre, for those who love horses and don't speak French it is perfect because there are no spoken words and there are several songs by Tom Waits. It is a unique mixture of man, horse, music, dance, humour and of course, angels, unique to Bartabas, the creator. It is absolutely not a circus.
"The marquee, caravans, music & horses give it the appearance of a circus but this show is a ritual, the music a vocation and the love of horses a religion. It is the work of a group who are artists through to the tips of their fingers or their hooves."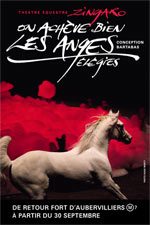 Oh I can't wait, I can't wait. Here is the YouTube teaser video – click the photo.
Bartabas is the stage name for the French horse trainer who created his first theatre company in his teens eventually, in 1998, creating this equestrian theatrical company, Zingaro (which means gypsy) and he is now known as one of the most talented trainers in the World (even in the horsey World in the US).
On achève bien les anges was created in 2015 and combines clowns, tightrope walkers, stilt walkers and dancers with horses sometimes ridden, sometimes not ridden but freely participating as artists in this story about 'Fallen Angels'.
I have purposely not tried to find out what happens during the show because the video teasers I have watched are already too beautiful and the reviews for the shows in Paris are amazing (the not so great ones were when it went on tour).
The production is being held in their large wooden marquee at Fort d'Aubervilliers, one of 16 forts built between 1841 and 1845 as the first line of defense for Paris, a cannonball's length away from the wall! You can eat prior to the show in the entrance marquee decorated with costumes and sets suggesting the dream world waiting for you but when you arrive it is possible to book dinner for after the show, if you can wait until at least 10.30pm where you may be mingling with the 2 legged cast, at least.
Access is easy on the metro, the show starts at 8.30 pm on Tuesdays, Wednesdays, Fridays and Saturdays and at 5.30pm on Sundays. I will lend you my HK Rugby 7's rubber cushions because theirs are not plump enough for the 2 hour show without a break and, if you want me to, I can purchase tickets for adults booked 1 week ahead or for any Sunday, for €36, rather than €42.
Do contact me if you want to go and take a look at your diaries to see when you can come and see me before the 31st December so you don't miss it. BOOK NOW and see you in Paris soon !
P.S. If you have already been to the Château de Versailles and horses inspire you, Bartabas has also created the Académie du Spectacle Equestre de Versailles in the beautiful Royal stables which are the two semi-circle shaped buildings facing the entrance to the Château de Versailles. It is a school for those who believe equestrianism is an art rather than a sporting discipline and which is open to the public for shows and to see the amazing Royal stables 3 days a week. I will wax lyrical about this at a later date.
A bientôt,
Want to know what previous guests have said ?
A relaxing and roomy base for exploring Paris : The apartment at 52 Clichy worked well for me, my husband, and a friend who had three days to explore Paris before taking a river cruise to Normandy. The information and advice Rosemary provided saved us time and expense in trying to see as much of Paris as possible, and the restaurant list she provided guided us to memorable meals at reasonable prices. Pat and Debby, USA, visited the apartment in September 2016 : Reviewed on TripAdvisor