I was really looking forward to the Magritte exhibition 'La Trahison des Images' at the Centre Pompidou. 5 differently themed rooms (flames, shadows, curtains, words and the body in pieces) bulging with paintings from this amazing Surrealist painter who was deeply interested in Philosophy. The art bit is at the bottom 😉
A friend bought tickets and asked me what time I would like to go as they were valid for the whole day. The whole day being anywhere between 11am and 9pm or 11pm on Mondays and Thursdays. I was rather happy about this because in a lot of exhibitions you are given a slot, rarely more than 30 minutes, and immediately I become terrified of not being on time …..
We agreed on 3pm. You will understand how this was a supremely bad idea further on…. So the great day arrives and I plan to be out of the house by 2.30pm. The Centre Pompidou is not far, plenty of buses would have dropped me off practically outside and this was last week, so it was a bright, clear, sunny day to be above ground. I had even considered walking and would have arrived on time but the pavements I would have needed to take, zigzagging through the 9th, 3rd & 4th arrondissements are not great when in heels (and I am always in heels in Winter, let's just get that clear!).
So I am ready, I have my coat on and then I get a phone call from my guest who should have been arriving hours later saying he was outside the red door. Agghh. I fly through showing him where everything was, trying to smile and leg it asap to the metro line 14 which goes straight to Châtelet, the biggest underground station in the World, hoping that my exit wouldn't be miles in the wrong direction.
I whooshed there in the driverless metro train and find I am only 5 minutes late. A win. I go to the super short – pre-paid ticket queue, rather than the long, long one for those who didn't only to be told that there was a 75 minute wait inside to enter the exhibition. I confess I couldn't work out how being 5 minutes late had created this problem but then realised I wasn't actually to blame. Phew.
So we joined the end of a queue that stretched the length of the museum on the first floor ending at the children's playground part (which looked really interesting as all the children looked totally engrossed). That line took 70 minutes, it was boiling and my feet were beginning to hurt like hell. What possessed me ? I know never to go to an exhibition at 3pm when every Frenchman has had their lunch and needs some culture (except for the Château de Versailles when it is the best time to join their queue for the tour…).
OK, so the waiting is all over, we take the escalator to the top floor, marvelling at the roof top view which is one of my favourites, avoiding the criminally insanely priced Georges café and arrive at the Magritte exhibition only to find there is another queue to hand over our tickets for about 10 minutes.

So we walk in and are faced with Magritte's 'This is not a pipe' written in English, (the French version, from which this exhibition takes its name is further inside) and dozens of paintings in the first room collected under the idea of Solving Problems.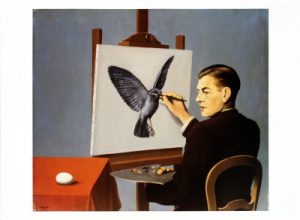 Room 2 was about Words and Images and Room 3 was The invention of Painting.
Honestly, I couldn't see why some of the painting couldn't have been placed in any of the first 3 rooms.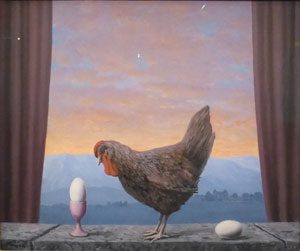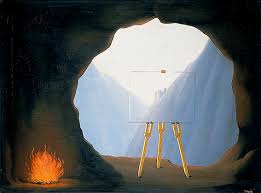 Favourite pieces included the Clairvoyant and the more squeamish 'Variante de la Tristesse' Variant on Sadness (egg, hen, boiled egg). However what made me happiest was that I understood the constant philosophical references.
The entire room 4 'The Allegory of the Cave', was comprehensible, not because I studied philosophy, but because I am currently reading Sophie's World by Jostein Gaarder so at the mere mention of Plato imagining prisoners held in a cave mistaking shadows for reality I got it, like the painting 'La Condition Humaine' the Human condition with the tiny castle in the painting but perhaps not really there behind the easel. Finally !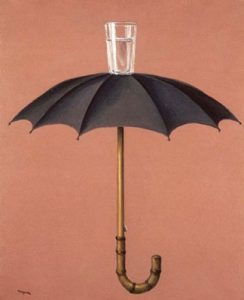 My favourite piece was 'Les Vacances de Hegel' Hegel's holidays, apparently named after the philosopher Hegel because he would have been amused by the conundrum. Although I had only recently read about Hegel (I am up to Marx), it must have gone straight in and out again because I hadn't a clue why this painting would have been named after him.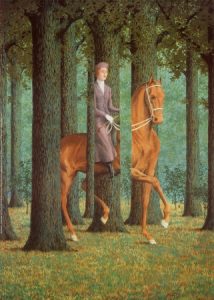 By the time we got to the paintings I recognised the most in room 5, 'Curtains and Trompe l'Oeil', it was so hot and I was so tired and my feet were absolutely killing me I know I will have to return to do these paintings justice, mainly because I love the idea of trompe l'oeil and loved his trompe l'oeil paintings such as 'La Carte Blanche' the blank signature, painted only 2 years before his death.
The moral of this tale is 'Do as I say, not as I do' because I would never suggest guests visit this Magritte exhibition or something else they really wanted to see in the afternoon.
5 hours after setting off I was back home, exhausted, knowing I wanted to return but probably not until I have finished and then perhaps re-read parts of Sophie's World !
The exhibition is enormous, I class myself as a philistine and even I could have spent hours longer looking at the paintings.
So pack comfortable shoes and come and stay before the 23rd January 2017 ! To check availability and pricing CLICK HERE.
Want to know what previous guests have said :
Top notch : My wife and I stayed at 52 Clichy for five evenings during our first trip to Paris. Rosemary was extremely hospitable our entire stay. She was very accommodating with our wishes, both with timing and preference, of our breakfast each day. She was very knowledgeable about all the Paris attractions and gave us excellent advice. The apartment was very clean and inviting, and we felt very safe throughout our stay. I recommend 52 Clichy without hesitation, and would stay there again.
Joe and Rebecca, USA. Stayed in the B&B in October 2016. Reviewed on TripAdvisor.