The Tour Saint Jacques is also called the Tower of Saint James of the Butchers, because that's all that is left of their church.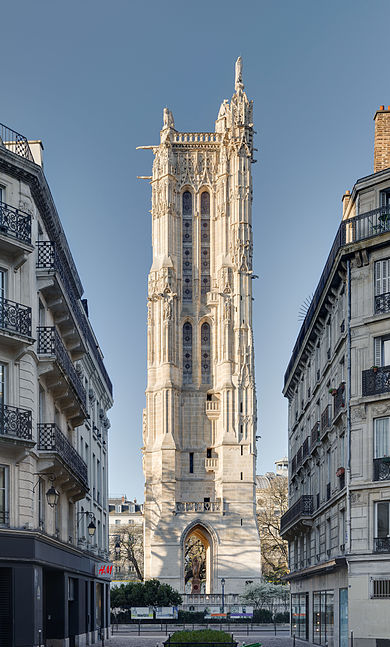 I've wanted to walk up it the for eons but it's only possible for a couple of months a year and then only on a couple of days each week.
Worse you can't walk up on your own you have to take a tour with a guide.
The guides must be REALLY FIT!!!
There are ONLY 300 steps to the top of Tour Saint Jacques but as you can imagine, by the top everyone is probably a mite dizzy going round and round and round.
So far I've contented myself with taking really bad photos because it's so tall you can't get the building 'in' a photo and of course it needs to be a sunny day.
Walking to the dome of Sacré Coeur is also 300 steps and I did that with my Godparents who were in their early 70s at the time, OK we were desperate to know when we would reach the top but we managed it, so this is possible but you are warned that you shouldn't do this if you are claustrophobic.
I'm really desperate to do this because I'm in love with their gargoyles, actually I love all gargoyles but obviously I love seeing them up close best. I just don't know who I could invite to go with me because the achievement needs to be shared.
Unfortunately the Tour Saint Jacques currently is open only in July and the English tours are only on Fridays and Sundays – I'm sure tickets will disappear fast.
At the bottom of the ticket page there are also gift cards for those who want to offer this Tour to someone – would you offer it to your best friend or someone you disliked intensly?
BTW, this is what Wikipedia has to say about it.