Did you know Gene Kelly created a ballet for the Paris Opéra ?  Did you know he spoke excellent French ?
Nope, neither did I until I booked to go on one of the several morning or afternoon English-speaking guided tour groups around the Palais Garnier for my Mother and I (highly recommended).  Apart from the 2 hour long tour of the building including the real explanation of where the Phantom of the Opera story came from (and yes there is a lake but no you cannot go there) we walked through the free, Special exhibition of "American Choreographers at the Paris Opera".
In that exhibition more than 70 years of American involvement at the Paris ballet is chronologically arranged – starting in 1947 with George Balanchine who created the New York City Ballet.

Until 1970 the only other person to create a ballet was Gene Kelly in 1960 and in the exhibition is a video of him giving an interview in excellent French describing his ballet "Pas de Dieux", a play on words meaning No Gods to the ballet term "Pas de Deux" meaning 2 people dancing together.
This is the drawing of the costumes drawn by Gene Kelly and below is my bad photo of one of the actual, and very beautiful, costumes.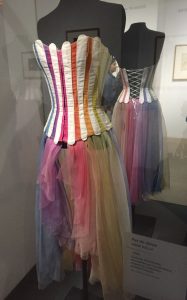 There are loads of other amazing costumes, photos and videos from some of the most famous ballets including Agon, by Ballanchine assisted by the West Side Story choreographer, Jerome Robbins.
From 1983 – 89, when Rudolf Nureyev was Director he focused particularly on modern American dance, increased the number of invitations and systemised the alternation of classical and contemporary ballets.
Nureyev used his reputation to invite major names little known to the Opera such as Alvin Ailey (Au bord du précipice – 1983), Twyla Tharp (Première Orage – 1984) and William Forsythe who has choreographed at the Palais Garnier for the last 30 years including this year with "Of Any If And".  There are so many videos, newsreel items, photos and gorgeously, gorgeously gorgeous costumes of their ballets.
Recently some of the most amazing costumes (and sets) have been created by Christian Lacroix and to stand close to those costumes, unfortunately behind glass, and see the workmanship of the luxurious, bejewelled materials and their construction was truly a marvel.
It took at least an hour more to look around the exhibition without watching much of the dancing because we had to go opposite to the Grand Café and compare the cakes there to those at the George V and the Ritz.
I would thoroughly encourage everyone to spend the €15.50 per ticket for the guided tour at 11am and 2.30pm even without the wonderful Special Exhibition which closes on September 25th.
Looking forwards to your comments,