Read my 200-ish 5-star reviews by clicking the logos and reading my  TripAdvisor reviews or my reviews on the Alastair Sawday's website directly on their sites, click on my LinkedIn  page for those reviews    or read excerpts from TripAdvisor, Alastair Sawday's and LinkedIn below :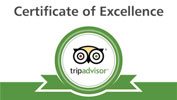 This property is ideally located for exploring Paris. It is incredibly peaceful given it is in such a central location. The most memorable part of my stay was the fascinating discussions over the breakfast/dinner table with the owner, Rosemary. She can provide a unique insight into Parisian life that you won't get in any hotel or indeed I imagine most B&Bs. Rosemary really does welcome you into her home and make you feel comfortable and relaxed. I'd highly recommend this as a place to stay in Paris, whether on business or pleasure.
David M. Couple from the UK (Sawdays)
Our first visit to Paris was memorable thanks in no small part to Rosemary at 52 Clichy. We loved the location in the 9th Arrondissement. We felt like we were living with the citizens of Paris instead in a hotel zone. Lots of great restaurants and shops within walking distance. Everything we wanted to see and do was easily accessible on the Metro and bus systems. The fifth floor B&B was very pretty and clean and we felt very secure there. And despite it being on a busy street, we couldn't hear street sounds once inside. The view from the porch was beautiful. Rosemary was so helpful with her restaurant suggestions, directions and coaching on French culture. As a result, all our experiences were positive. We felt welcome everywhere we went. Highly recommended.
Beth B. Couple from the USA (TripAdvisor)
A different way to stay in Paris. Good location, cozy atmosphere in an elegant apartment with a beautiful balcony. You can converse with Rosemary about music, wine, or whatever…she's really welcoming.
Antonella P. Couple from Italy (LinkedIn)
52 Clichy is a wonderful place to stay in Paris. Rosemary is so helpful & shares so much knowledge about Paris & the French way of life. She is a delightful host who serves up a wonderful breakfast every morning. The apartment is bright, cheerful, & comfortable. I thoroughly enjoyed my stay of 10 days!
Jeanette W. Single woman from the USA. (TripAdvisor)
Rosemary is an excellent host who expertly guided us during our stay in Paris at her B&B. During her wonderful breakfast, she offered advice on places to visit, the best ways to get there, etc., all of which were spot on. Both of her properties are in great locations with lots to see, plus convenient to public transportation. Looking forward to our next trip to Paris!
Frank M. Couple from the USA. (LinkedIn)
My second stay with a warm welcome – Rosemary is a generous host and a delight to stay with – Her breakfasts must be the best in Paris – Her peaceful balcony is the perfect place to start or end the day – Rosemary's in depth local knowledge and passion for the real Paris helps you to find the authentic and the magical. A go to favourite of mine.
Ashlyn G.   Single businesswoman from the UK   (TripAdvisor)
The moment we punched the code to open the heavy wooden doors in Rue de Clichy we entered a quiet, heavenly courtyard, gardens ahead of us, in central Paris. The 5th floor apartment was lovely. Spacious and cosy. Our hostess Rosemary was an English Rose, but one steeped in Parisian specialties and her own quartier. Patisseries and typically French restaurants and places to enjoy to add to your own lists. Her warmth and range of conversation was compelling. A short stay will no doubt be repeated by a longer one sometime soon. We loved No 52 and Rosemary.
Bruce G. Couple from the UK (Sawdays)
My husband and I stayed in the B&B for six days in September. Rosemary was very welcoming and organized. She was helpful for our planning of the outings. We enjoyed our excellent breakfast every morning and pleasant conversations with Rosemary. My husband even got into rugby games under her influence! This was my first trip to Paris. It was memorable and Rosemary certainly played a critical role in it.
Li C. Couple from the USA (TripAdvisor)
We stayed with Rosemary in her B&B June 2013 for our wedding anniversary. Rosemary was a fantastic host and made our first trip to Paris an amazing experience. Breakfast was fantastic and I still haven't been able to eat an almond croissant since I returned to England. Rosemary shared her wide knowledge of Paris with us and her recommendations were excellent. We loved the personal touch of Rosemary sharing breakfast with us each morning and enjoyed sharing life stories. We cannot recommend staying with Rosemary highly enough.
Amanda R. Couple from the UK (LinkedIn)
Convinced ?
Great, homey apartment. Has everything you need from clean bathroom, bright natural light to amazing breakfast (homemade yogurt, beautiful fruit plate, and amazing breads and pastries). It is located just a 10 minutes' walk from Galeries Lafayette: close enough to the city-center, yet far enough to not feel suffocated.
Noodee P. Single woman on business from Thailand. (TripAdvisor)
The "52 Clichy" B&B in Paris managed by Ms. Rosemary Allan, is the perfect place to stay in Paris being close to the city main attractions, having perfect connections with the city transportation network and still being a quiet and "coquette" location.
I recommend "52 Clichy" B&B for all travellers having a city break in Paris.
Alexandru I. Couple from Germany (LinkedIn)
Rosemary was and is a delightful hostess. Our morning talks over breakfast were the bright spots of our rainy cold stay in Paris. She was our Mary Poppins, pulling anything we needed from her magic bag. I still haven' t found a 240-120 voltage converter anywhere else, but she was equipped with one. She went out of her way to serve fresh and assorted breads and pastries, tea, yogurt, and jams each morning, with info on how to tell good from bad baked goods. Her guest rooms were a delightful start to our two month European trip.
Bob D. Couple from the USA (Sawdays)
Just spent 4 lovely days with Rosemary at 52 Clichy. Felt like staying with a friend with Rosemary's ethos " make yourself at home" – and we did. Very secure apartment with much appreciated lift. Room and bathroom very comfortable and as advertised. Super comfortable bed and beautiful breakfast – lucky to have enjoyed on the balcony one of the days. Rosemary provides lots of information – transport, restaurants, sightseeing. Great to have info from a local perspective. Enjoyed coming home at night and sharing a wine (or Baileys) with Rosemary and discussing our days adventures.
Cy-Anne A. Couple from Australia (TripAdvisor)
Wonderful stay: great accommodations, gracious host, close to everything we wanted to see. Would love to return ourselves and would definitely recommend to friends and family."
Dennis M. Couple from the UK (Sawdays)
We had a wonderful time in Paris – four splendid days that would not have been the same, if we wouldn't have stayed at Rosemary, 52 Rue de Clichy. We loved the cosy appartment. Not only the great location, but especially the recommendations of Rosemary made our trip really memorable. I will just give an example: we were planning to go on the Arc de Triomphe anyway, but after talking to Rosemary we took her advice and went there exactly when it got dark – the best timing, especially because you enjoy a great view on the Tour Eiffel by night. There are so many more examples to give, but I will stop here and let you discover on your own! Lovely place, lovely host and… since we got engaged in Paris 🙂 , Rue de Clichy will always be an even more special place for us!
Nicol G. Couple from Austria (TripAdvisor)
A different way to stay in Paris. Good location, cozy atmosphere in an elegant apartment with a beautiful balcony. You can converse with Rosemary about music, wine, or whatever…she's really welcoming.
Antonella P. Couple from Italy (LinkedIn)
This current visit and stay with Rosemary was once again a wonderful experience. We stayed with Rosemary in 2013…and, quite honestly, were anxious to return again. Rosemary and her 52 Clichy B&B meet and exceed every expectation one needs while visiting Paris. Her apartment is centrally located in Paris therefore it is easy to visit the various sites and attractions in the city. Her apartment is neat, clean, and comfortable…furthermore, the morning breakfast and subsequent conversation are excellent and a highlight of the stay. We will return again as the 52 Clichy B&B is not only an excellent business/travel decision, but Rosemary has become a very good friend.
Ken R. Couple from the USA (TripAdvisor)
My friend and I stayed with Rosemary and she made our stay wonderful. We were in the center of the city with easy access to everywhere in Paris. Rosemary looked out for us the entire time, giving us short cuts and advice on how to get to the different places within Paris. Breakfast was wonderful. We were in Paris during the terrorist attack, Rosemary checked to make sure we could get to the airport and which was the best way. She also checked on our flights and security at the airport. Would stay again without hesitation.
Nancy M. 2 friends from the USA (TripAdvisor)
Convinced now?
If not, then perhaps you are looking in the wrong place. Take a look at the Apartment description and their testimonials or take another look at my video on the home page.